Chamber choir opera for children EJ NU EJ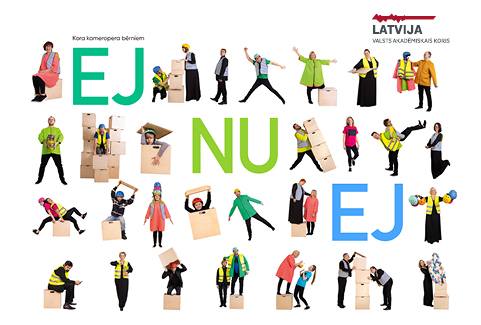 State Choir LATVIJA and its Artistic Director and Chief Conductor Māris Sirmais have worked on a special event for the youngest audience of the choir – a chamber opera EJ NU EJ. By this event choir also celebrates its 80th Anniversary.
EJ NU EJ is a musical story composed by Laura Jēkabsone and is based on a poetry book by Marts Pujāts "Ej nu ej", libretto written by Mārtiņš Meiers. It tells a musical story about a city-living boy and the adventures and emotions he gets while being  at home, in the city (e.g. driving in a tram) and the whole opposite world of the country by the sea. The choir voices will be joined by a boy's soloist – Reinards Blūmentāls, Aleksandrs Meri or Lūkass Olekšs.
Director and scenographer of the chamber opera is Reinis Suhanovs, choreographer – Elīna Gediņa,  costume designer – Katrīna Pasternaka.
The chamber opera will be performed at the Zirgu  Street Concert Hall  on the following dates:
Thursday, March 24, at 18.30 (premier)
Saturday, March 26, at 12.00 and 14.30
Friday, April 1, at 18.30
Saturday, April 2, at 12.00 and 14.30
Main audience: 5-12 years old children
Duration of the concert: 1 hour
The project is realized by the support of the State Culture Capital Foundation and the Education, Culture, and Sports Department of Riga City Council.