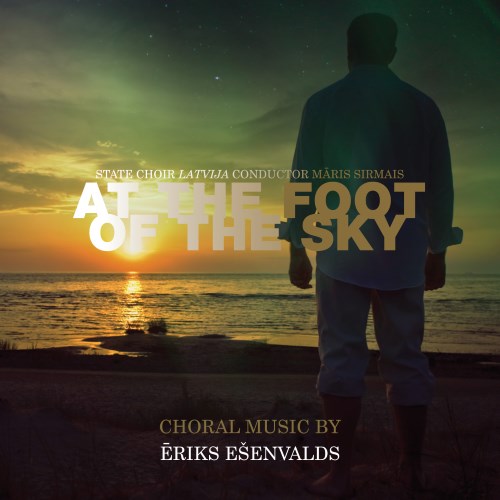 State Choir Latvija has released a new CD with choral music by Ēriks Ešenvalds "At the Foot of the Sky". There are included such works as "Northern Lights", "Seneca's Zodiac", "Vineta",""Stars", "Long Road" etc. Uniting thema of these works – stars, constellations, optical phenomena of athmosphere – northern lights, sun dogs.
Gabriel Jackson, composer:
Throughout his career Ēriks Ešenvalds has shown an engaging pragmatism and practicality; the requirements and abilities of the forces he writes for are always meticulously attended to, whether in a simple piece for a college choir, or a work for a virtuoso professional group like the State Choir Latvija, of which he was a tenor member for many years. This experience of the choral medium from the inside must, surely, account for the assurance and understanding that all his choral music demonstrates, but he also has a unique coloristic vision, and a flair for using unconventional techniques (both vocal and instrumental) to create a discrete and compelling response to each text he sets, themselves chosen with special care.