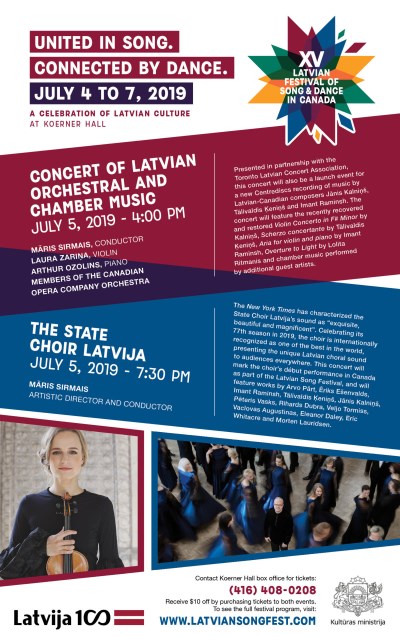 Exciting news! The State Choir LATVIJA, under the artistic direction of Māris Sirmais, will be touring Canada for the first time from July 3 – 13, 2019!
The New York Times has characterized the State Choir LATVIJA's sound as "exquisite, beautiful and magnificent". Celebrating its 77th season in 2019, the choir is internationally recognized as one of the best in the world, presenting the unique Latvian choral sound to audiences everywhere.
The choir's tour concerts will feature music by Arvo Pärt, Ēriks Ešenvalds, Imant Raminsh, Tālivaldis Ķeniņš, Jānis Kalniņš, Pēteris Vasks, Rihards Dubra, Veljo Tormiss, Vaclovas Augustinas, Eleanor Daley, Eric Whitacre and Morten Lauridsen.
The tour is being produced by Laura Adlers (The Adlers Agency) in partnership with the XV Latvian Song and Dance Festival in Canada (Toronto), Music and Beyond (Ottawa) and the Elora Festival (Elora). Tickets for Toronto are now for sale through the Koerner Hall box office. Ottawa and Elora festival tickets not on sale yet, but stay tuned! Toronto tickets will sell quickly – buy yours today!
This tour is made possible with the support of the Ministry of Culture for Latvia, the LV100 Foundation and the XV Latvian Song and Dance Festival in Canada, who invited the choir to perform at their festival as part of Latvia's centennial celebrations.