State Choir LATVIJA Releases Video of New Work "Trees" and Resumes Concert Season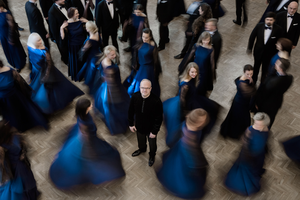 On July 21st, the State Choir LATVIJA and its artistic director and chief conductor Māris Sirmais will release a video of "Trees," a new work from composer Jēkabs Jančevskis and poet Inese Zandere. This video release also represents the resumption of the choir's 2020 concert season.
The idea for the video began in March, as the State Choir LATVIJA and conductor Māris Sirmais sought to continue the creative work of the ensemble during the beginning of the state of emergency in Latvia. Inese Zandere was requested to create the text for a new work, while Jēkabs Jančevskis, with whom the State Choir LATVIJA has successfully collaborated for many years, was entrusted with the assignment of writing the music. The recording of the new work was led by the talented sound engineer Gustavs Ērenpreiss.
Drawing inspiration from Latvian nature and from the imaginative lines of Inese Zandere, video artist Kaspars Krauze has created a video of the new work which will be available to viewers from July 21st. The audio of the piece will also be available on streaming platforms Spotify and Deezer, as well as on iTunes, Amazon, and other online music stores.
The video of the new work "Trees" can be watched here: youtube.com
With the presentation of the "Trees" video, the State Choir LATVIJA officially resumes the 2020 season. On July 31st, the State Choir LATVIJA will take part in the Rīga Cathedral 2020 International Organ Music Festival in the concert "Sacred Parallels/England". The choir will join organist Aigars Reinis and an ensemble of instrumentalists to perform works by British composers. The State Choir LATVIJA and conductor Māris Sirmais will also continue the tradition of the 23rd International Sacred Music Festival, which will delight listeners in Riga from August 18th to September 5th.