LISTEN TO CONCERT RECORDINGS OF THE STATE CHOIR LATVIJA AND IVETA APKALNA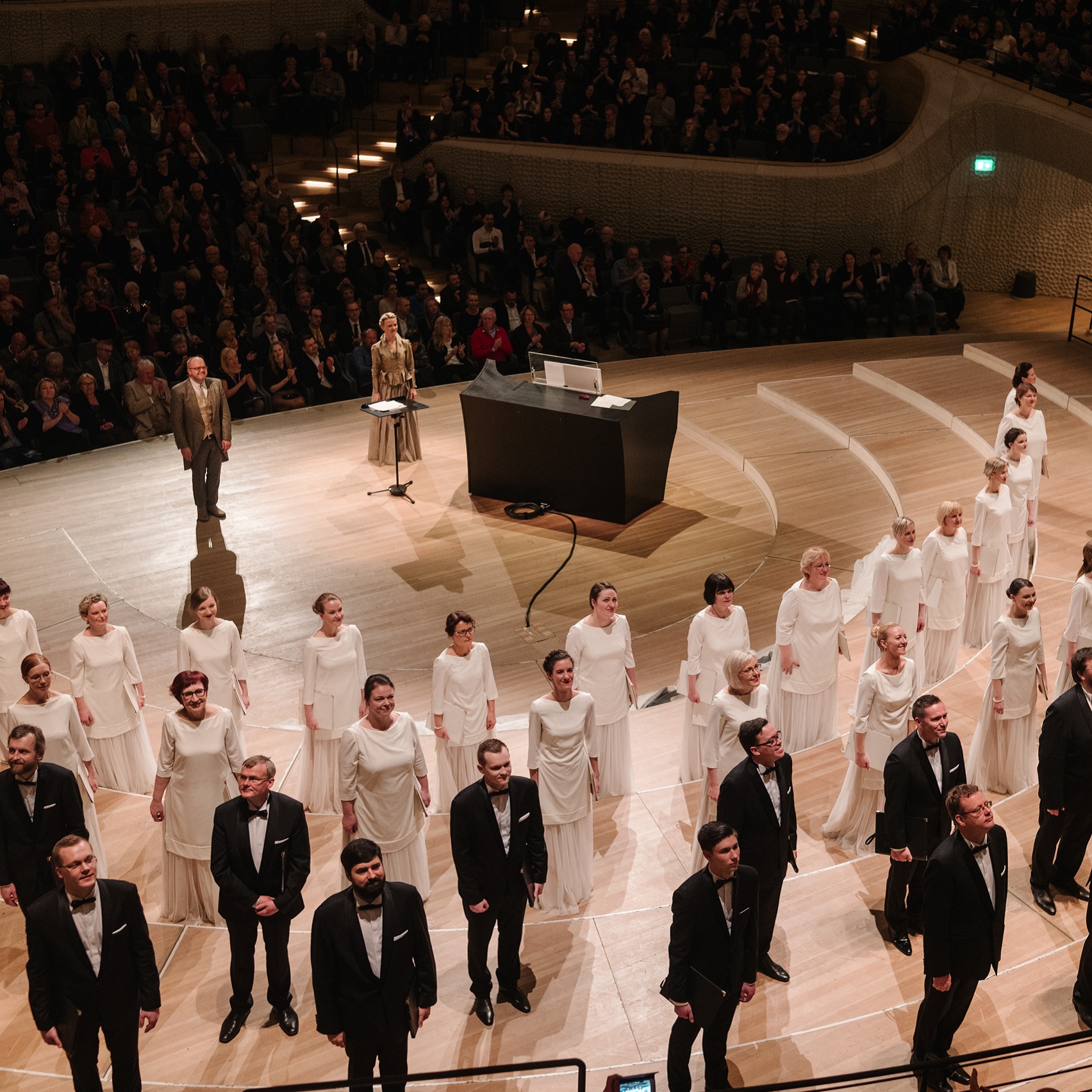 Continuing our stories about fantastic collaborations, we must mention Iveta Apkalna, the outstanding Latvian organist. Iveta Apkalna is one of the world's most talented organists. Since 2016, she has been the principal organist of the Elbphilharmonie. Her playing unites deep musicality, impeccable technique, and unfailing emotion.
The archive of Latvian Radio 3 includes four concert recordings featuring the State Choir LATVIJA and Iveta Apkalna.
One of Latvia's most recent musical events was the opening concert of the "Latvija" concert hall in Ventspils. Together with the women's choir "Venda" of the Ventspils Cultural Center, the mixed choir "Ventspils", the Latvian National Symphony Orchestra and soloists Iveta Apkalna, Intars Busulis, Gints Pabērzs, and Emīls Patriks Dzenītis, the State Choir LATVIJA performed "Book of the Sea", a new oratorio from Raimonds Tiguls and Nora Ikstena, as well as music by Raimonds Pauls. The program's artistic director was Māris Sirmais.
https://klasika.lsm.lv/lv/raksts/tieshraides/ventspils-koncertzales-latvija-atklasanas-koncerts.a119873/
On August 16th, 2019, in concert at the Concert Church in Neubrandenburg, the State Choir LATVIJA and Iveta Apkalna performed as part of the Mecklenburg-Vorpommern Festival. The program included works of Lionel Rogg, William Byrd, Louis Vierne, Benjamin Britten, Edward Elgar, Henry Purcell, and others.
https://klasika.lsm.lv/lv/raksts/vakara-autorprogramma/iveta-apkalna-vak-latvija-un-dirigents-maris-sirmais-noibrandenb.a128308/?fbclid=IwAR3r84oK9NMUyBQofMyR7mSN9l5u4tRuSbzAKz_UNFRzWT7dqryno3lIBb0
This concert was dedicated to the restoration of the independence of the Republic of Latvia as well as the centenary of the Latgale Congress, and it took place at the Latgallian Embassy "Gors". The program featured music by Pēteris Vasks, Jānis Aišpurs, and Rihards Dubra.
https://klasika.lsm.lv/lv/raksts/tieshraides/lr-neatkaribas-atjaunosanas-dienai-un-latgales-kongresa-simtgade.a85854/
This concert took place on August 22nd, 2014, as part of the 17th International Sacred Music Festival in the Riga Dome Cathedral. The State Choir LATVIJA was joined by the Liepāja Symphony Orchestra, Iveta Apkalna, and Inga Šļubovska-Kancēviča. The performance was conducted by the Azerbaijani conductor Yalchin Adigozalov.
https://klasika.lsm.lv/lv/raksts/latvijas-koncertzales/17.-starptautiska-gariigas-muzikas-festivala-koncerts-riigas-dom.a42718/
#seeyousoon #stayhome